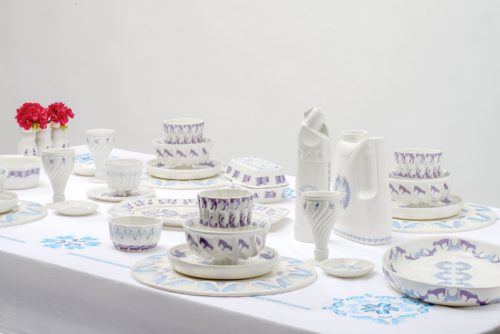 Including: dinner, breakfast, and dessert serving dishes.
Size: several sizes, 70 items.
(low-tech design)
Material: porcelain
Illustration: Delftware
This tableware was born out of frustration; it is almost impossible to buy products that are not pre-packaged. In fact some products, e.g. cookies, need to be wrapped in three different kind of packages. These packages make it easy for us and save us a lot of time. However it also means …… a continuously growing mountain of garbage and we continue to do it because we are too busy to think about it!
Do we actually ask ourselves where all these products come from? Milk comes from a carton, meat from the refrigerator. People pay a lot of attention to the package, everything looks just fine and consumers tend to buy its contents because the outside looks nice. Do you know that fruits and vegetables are sprayed on to keep them beautiful? Do you know how farm animals are bred in horrible conditions? Do you know under what circumstances our roses are grown and harvested? As long as everything looks "attractive", we seem to be satisfied. Many commercial slogans exist to promote our beautiful products. In tourism, the Delft blue souvenirs going around the world give others an indication of the beauty of the Netherlands.
The tableware was created by a low-tech technique. Packages that remained after the errands were finished are drained and executed in porcelain (as expected from nice tableware). The geometric and floral Delft blue motifs are composed of personal photographs taken in factory farming, on the road in a traffic jam, and between the heaps of garbage, wheelie bins, and containers full of white goods.
A top notch Dutch tableware to consume.