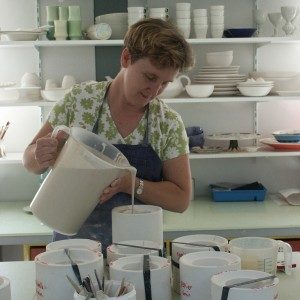 I quit my job as a teacher of crafts at secondary school and then went to the Art Academy in 's-Hertogenbosch (AKV / St. Joost) where I completed the direction KEAM (Ceramics And Other Media) . After that I obtained my diploma from the 'technical' ceramics course of the AVA (association of Dutch ceramic manufacturers) .
Since 2004 I have been working as an independent designer/artist. Until 2019, I mainly made porcelain products in Langenboom (Holland) under the name Het Bakhuis. In addition, I gave many workshops to companies, families, friends' clubs and children. In 2020 I have moved (temporarily) and I work under my own name.
Sometimes I work on commission but most of the time they are own products, sometimes autonomous or installation art but usually it is related to applied art. What I make comes from experimentation, research, wonder, annoyance, stacking, folding, slow-design and every other coincidence you can think of.
In addition to porcelain, I am now also working on new paper products. A material that has always fascinated me and that I would like to discover further.
What comes first is the pleasure and freedom in the making process.