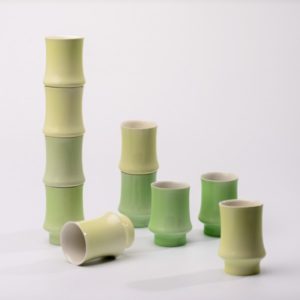 Size: H = 10,5 cm
Ø = 7 cm
Material: porcelain
A functional western every-day-use product with Oriental symbolism.
My personal pet peeve: stacking cups.
I have linked this "Western problem" to the symbolic meaning of bamboo:
"… in East Asian art and symbolism bamboo plays a major role: its 'empty heart' symbolizes modesty, the color green symbolizes immutability and the thinness symbolizes old age. When bamboo stems are placed in the fire they will explode with a loud bang and as a result the evil demons will be exorcised. In Japan, bamboo symbolizes the advanced power of the eternal youth. Bamboo stands for resilience, flexibility, and growth."
Stacking of the cups will create bamboo stalks up to 60 to 70 cm.